I have learnt a valuable lesson…never trust any of your most prized possessions with a stranger. It sounds obvious doesn't it? But I did it, and now regret it. About 6 months ago in passing I mentioned to Dave that we should look out for an airtight storage box for my bear, Annie. I thought it would not be "becoming" for the bear I have had since a baby to share our marital bed, and she has been on her last legs for a few years, I thought it was time for retirement. He was shocked and suggested instead at getting her fixed up.
I knew what I wanted – patch work only with some stuffing as needed. I wanted her to be as much the same as she had the past 15 years, bald, smelly and perfect. I researched a lot of toy restorers and found several "bear hospitals" I found a few people who took personification too far, and others who were far too mechanical and indifferent. I did find one who was sensible but considerate and after a lot of email discussion I sent Annie of for a quote. The restorer said he could patch her up and understood the need for maintaining her character. I knew that once I took the risk she would never be the same again. He offered a reasonable quote and I was excited but had to wait 6 weeks before he started work on her. It took a week to complete the work and he sent her back to me. He sent an email with a photo saying he was "unable to removed the glue from her eyes" which was worrying since I did not want this fixed and had not asked for it.
When I opened the box I was horrified. She was stiff and well padded, she had long mohair around her neck, which did not match her 20 year old felted and bald fur. He had cut circles of new fur round her eyes and she looked like a silly panda. Worst of all she smelt like new plastic; Tragic!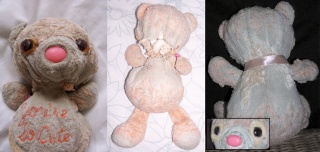 After reading the past emails I found where he wrote "we never replace old fur only cover it" so I unpicked the patches round her eyes, with relief to find she was the same old Annie underneath. I have also unpicked a few stitches and pulled out some of the excess stuffing, she is still padded but much more movable. That seemed to fix the biggest problems, and at least the long mohair was a good colour match. She still smells odd and new despite being washed twice, so I now plan to remove all of the new stuffing and use what I have always used for my home bear repairs; cotton wool. Hopefully she will be back to some of her old self – but with an actual neck instead of gaping hole ; )