For those of you thinking of travelling to Thailand I would highly recommend it, I have always admired its thriving Buddhist culture, It's stunning art and temples, the beautiful jungles and environments, and the glorious animals that live there, the friendly hard working people and its bustling night life. Having now been there I would say those are all true, and then some! The temples are unreal, the elephants majestic, and the people so friendly and open, they are happy to please : ) The only thing that was let down was the honesty of some people, trying to hook you into buying their product although mostly immigrants, but the Thai people are catching on too, they have to keep up.
Bangkok is a bustling and busy city full of life; it seemed to be a content hard working city. I loved the colourful people and the even more colourful street. There is fascinating architecture everywhere and I drank it all in.
Koh Samui has such a beautiful natural environments and such strong communities. We went climbing up mountains (well more like steep rocky hills!) through jungles and over rock islands, snorkelling in caves and on coral reefs, canoeing round spectacular islands and under the natural outcrops, we saw spectacular waterfalls, stunning views and the most incredible animals. It was great to travel to such a stunning place, the beaches and views are straight of of a post card.
We also met the most fascinating people, the enlightened mahout (well he seemed to know something the rest of us didn't) cheerful restaurant owners, brilliant lady boy cabaret dancers, friendly call girls – well everyone was friendly – and some pushy sellers, smiling at you the whole time. There were people dancing in the street, herding water buffalo down the road and people loading so much produce onto their mopeds (fruit veg and children!) your thought they would topple over.
A lot of these things you may think you can get in a lot of Asian cities and towns, especially those lucky enough to have thriving tourist trade but for me Thailand really was the land of smiles and I loved every minute.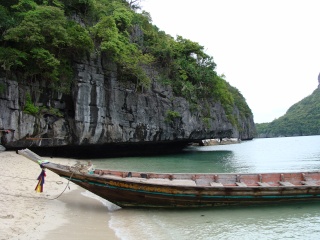 Ps I'll be going back in the future to see the "Real" Thailand on the mainland and to explore the less developed towns, hopefully doing some voluntourism of some sort.