Recently I have gotten into some new music and I love some of Kenny Chesney as well as Trace Adkins and Alan Jackson. That kind of feel good country music makes me imagine I'm driving on a straight road through the southern desert in a pick up truck wearing a straw cowboy hat with the windows down, good times!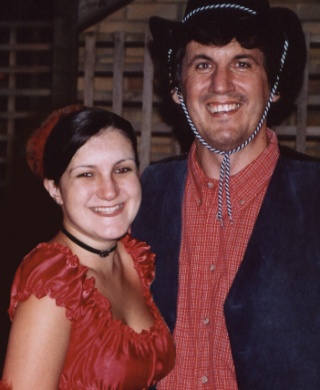 Well maybe not in that outfit, the feathers for one would be a mess! The for mentioned straw hat and blue denim dungarees would be more suited I think : ) That photo was for my 18th Birthday way back when, pictured with my Daddy out side the hall.
I saw the video for Good Time by Alan Jackson on
youtube
(embeding is disabled on every sinlge one, can you belive that?) and
apparently
Alan Jackson is trying to set a world record for the longest line dance spanning 3 state lines... but its just for the video and really there are only 200 hundred dancers (unlike the some 13K for the actual world record). Its an easy dance and I tried it out in the living room, I love dancing :)
I really love those feel good country tunes but as with lots of music, I like a few songs or artists but haven't the foggiest where to find more new music. I'm too broke to buy new CDs out with out knowing first if ill like it or not, any ideas?