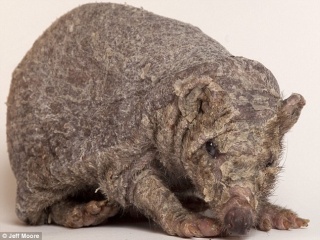 Spud looks a sorry sight! He is a spineless wild British hedgehog currently in the care of Tiddywinkles hedgehog sanctuary in Buckinghamshire, he has been with them since August 2008. Every day he has a
bath and baby oil
massage, he has very dry skin and on his back there is no hair or spines at all. I love how you can see the muscles used for rolling up!
They don't know why he doesn't have any spines or why they do not grow back but it is possible to grow them, one or two have appeared under the skin but were in growing and had to be removed. He lives a healthy life and is now
infamous
, but I hope he grows his spines back, a hedgehog is nothing without his spikes!