During the 3rd Crusade Richard the Lionheart awarded land in Essex to many of the knights who fought for him against Saladin in Jerusalem and the surrounding areas. Cressing Temple was the site of the Templar Knights headquarters way back when and has some ancient barns and buildings.

This weekend Cressing Temple held a St Georges Day medieval joust and it was excellent! There was lots to see and do, men at arms displays, the joust itself with stunt men, a score of mistrals and several bands dotted around, a Tudor battle (from the War of the Roses) as well as a falconry display which was my favourite . It had plenty of medieval demonstrations from smelting to fletchers, as well as stalls with loads of amazing stuff I wanted to buy. I saw a couple of brilliant leather purses as well as several other pouches and accessories, including cutlery, scissors (there were awesome!) and tankards. Not to mention several swords and daggers ; ) But we resisted and kept from spending any money.
Well...Dave did buy a bottle of mead but I don't think refreshments count ; ) I'd love to join a group but I know that some of them take it very very seriously, and I think if I did it regularly it would be expensive. I love costumes - a lot – as well as history and I know to make them properly is expensive and to buy is even worse. My wench costume (
Part one
part two
and
part 3
)
cost £30 to make and that was only half, as the skirts were from my mums loft >_> Not to mention the accessories I referred to earlier. Everyone there was dressed up even the stall holders and ticket sellers; it had as many reinactors as visitors lol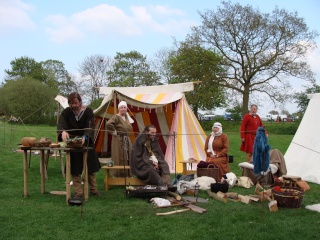 If you are interested in checking it out Cressing temple they have medieval and Tudor days once a week during peak season. As a lover of history I think it's a definite must see for older children, anyone under 5 would find it boring though. I think the remote Essex country side is what has allowed this gem of history to be available to us now and to be wonderfully restored, I've never seen anything like it back home (west of London is much more built up that the north) and I think is historical reference and the suburb setting is what brings traders and reinactors from so far for this event.